The Drove, East Pennard
Shepton Mallet
BA4 6UA
Somerset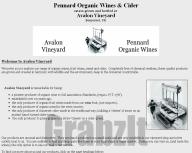 Have we got it right? Please help us to make this page more informative.
Complete the
Vineyard Questionnaire
.
Wine Awards
Wines
No information available on wines for this vineyard.

1
Flickr photos >>
Twitter
No Twitter information available for this vineyard. See what other are
saying ..
Tweeters Nearby
Vineyard Tweeters within 50 miles of Avalon Vineyard